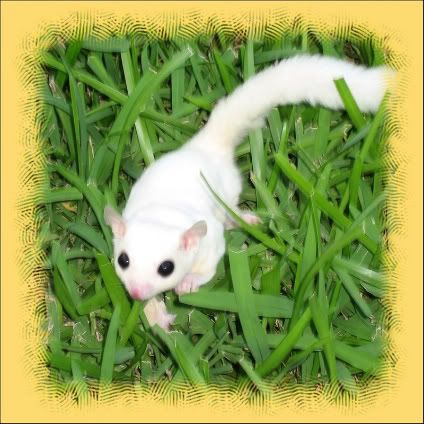 7/12/13 Cherry is pregnant
6/11/12 Kayla is pregnant
3/12/11 Lydia is pregnant
10/11/10 Lydia, Cherry, Kassi are pregnant!
08/06/10 Lydia had a joey, his name is Archie!!!
07/14/10 new pics of joeys added.
07/9/10 Added 5 new links in the Toy section.
07/8/10 All links have been updated.
07/5/10 Silvia and Kayla are pregnant.
07/1/10 Cherry had a Mosaic Joey!
06/20/10 Lydia, Cherry are pregnant.
04/22/10 Hopefully more joeys to come!
9/07/09 Picture of joeys have been updated.
8/23/09 Pics posted of some joeys!
8/21/09 Lydia has one male oop!
8/15/09 Cherry has some joeys!!! They are not fully oop yet, they are one boy and one girl.
8/13/09 Kayla's joeys oop too, a boy and a girl.
8/10/09 Silvia's joeys came oop two girls.
5/29/09 Added a page to my Navigation the "Are you Local?" page
5/28/09 Finally I put Cherry and Mango together this month. Cherry finally accepted her BF!!
3/29/09 Lydia has two WFB females!!!
3/20/09 Kayla has 2 WFB females!!!
3/19/09 Evee has a WFB male joey that came oop!
3/12/09 Silvia's joeys came out of pouch. Two WFB Males.
2/26/09 Silvia and Kayla both have two joeys in pouch. Silvia is due any day now!
2/19/09 Kassi's joeys have slowly come out of pouch. Two females, it seems that one joey is a leucistic. The other would be a WFB 66% het .
2/4/09 I have been slowly introducing Mango and Cherry during playtime. Mango will be Cherry's future Bf.
2/1/09 Kassi and Evee are preggers!! Definitly more than 3 weeks along.
12/18/08 New pics added of Tic and Silas
12/16/08 Vendor Warning!,added to he Things You Need page. Glider proofing link added in Checklist /Care Sheet page. Ill or Injured and First Aid Kit links added to the Health, Food & Growth page.
12/05/08 Silas pictures uploaded!
11/10/08 Lydia's Silas came oop today.
11/04/08 Flying Marsupial link added to Fun Pouches and Toys section, Art commisions added to Info and Misc.
10/10/08 Pics of Cherry, Violet and Hazel posted.
10/7/08 Silvia's joeys came oop yesterday, thier names are Violet & Hazel.
9/13/08 Kayla's joey came oop yesterday, her name is Cherry.
8/28/08 Silvia has (2) IP.
8/26/08 Kassi, and Kayla have (1) IP.
8/25/08 I updated pics for Artemis, Tic and Fivel.
8/11/08 Lydia joey came oop her name is Artemis.
8/1/08 Another adopted joey pic added.
7/31/08 Updated Pics of Tic
7/11/08 Updated pics of Fivel
6/29/08 Updated pics of Tic, Tac, and Fivel.
6/19/08 Two new pics added of Tic & Tac.
6/14/08 Checked Kayla and she has another male joey in pouch!! Yay!
6/13/08 I got a new glider his name is Mango, you can meet him in the glider family page.
6/6/08 New link to the Health, Food & Growth page, Grubco.
6/1/08 Added new pics to My Glider Family page.
5/3/08 Added link to the Toy page "Attic Worx"
4/28/08 Added a link in the toys section.. "The Sugar Burrow"
4/15/08 Added a link in the Info and Misc section and the Glider Supplies page.
4/4/08 Added link in Health, Food & Growth section.
3/27/08 Kayla's joey fully OOP.
3/23/08 After a mealie bribe, found out that Kayla's joey is a boy!!!
3/17/08 Added a new toy link. Lydia has one joey in pouch.
2/28/08 Both Joeys are now sold. Kayla has one joey in pouch.
2/5/08 Updated picture of Tex.
2/1/08 I am picking up Kassi today!!!!!
1/27/08 Picked up a new girl from Jaime her name is Evee!
1/16/08 Lydia's joey is a girl!
1/15/08 Posted pic of one of my previous joey that was adopted, Plue.
1/13/08 Posted pic of Kayla's joey, called Tex
1/10/08 Lydia is also pregnant, i think the guys coordinated something...?
1/10/08 Turns out the that my calculations were wrong, Kayla's joey came oop yesterday! A Boy!
1/1/08 Kayla is pregnant, she has one joey in pouch, about 5 weeks approx.
11/5/07 I posted up the recipes of the Fruit Smoothie and Veggie Relish in the Food & Health page
11/2/07 I have added a link to the contract page, to be printed by potential owners.
10/29/07 Unfortunatly i had to add amendments to the adoptions page.
10/8/07 Posted pics of Sparky and Rocco in My Glider Family page.
10/6/07 New pics of Lydia's joeys added.
10/5/07 I have adopted a Grey suggie, his name is Sparky, I am relieved that he has a docile personality.
10/3/07 Aimee's boyfriend came in today. He is super sweet. His name is now Rocco.
9/18/07 Took pics of Kayla's joeys. check the pics in the adoptions page. They are out of the Bath house, and wondering around the cage exploring.
9/17/07 New pics posted of Lydia's joeys. Check out Evan and Finn in the adpotions page. Evan is still a little bit of a whiner.